Home


Bon Débarras' folk music is deeply rooted in the memory of French-speaking America. On their guitars, banjo, violin, washboard and harmonicas, and integrating foot percussion, jig and body percussion, the trio creates musical atmospheres that transcend boundaries and ages.
An exciting fresh autumn for Bon Débarras

The next few months will be thrilling and rich for the group Bon Débarras. Indeed, our trio will welcome a new member, with violinist Marie-Pierre Lecault gradually replacing Cédric Dind-Lavoie.

With this new voice, a new instrument and some delightful new musical arrangements, the band is simmering with creativity. That will translate into the recording of a new album, scheduled to be released in the fall of 2016. In the meantime, be the first to discover three of their brand new songs just below!
News

The band has also embarked on an adventurous collaboration with the publisher La Montagne secrète: Le loup de Noël (The Christmas Wolf). This tale written by Claude Aubry and narrated by Michel Faubert will feature original compositions by Bon Débarras in a CD-book for children to be launched just in time for the holidays. A must-read, a must-listen and a must-see!… since there will be a show Le loup de Noël presented on December 12th at the Calixa-Lavalée cultural center in Montreal.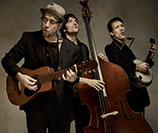 And besides, with a noteworthy appearance at the «Festival International de la Chanson de Granby» this year, Bon Débarras won a European tour of 25 shows that will take place in March 2016 !!!
Click here to watch the video
Check the tour dates